Hockey
The Hockey A Team with their trophies for winning the league and the hockey tournement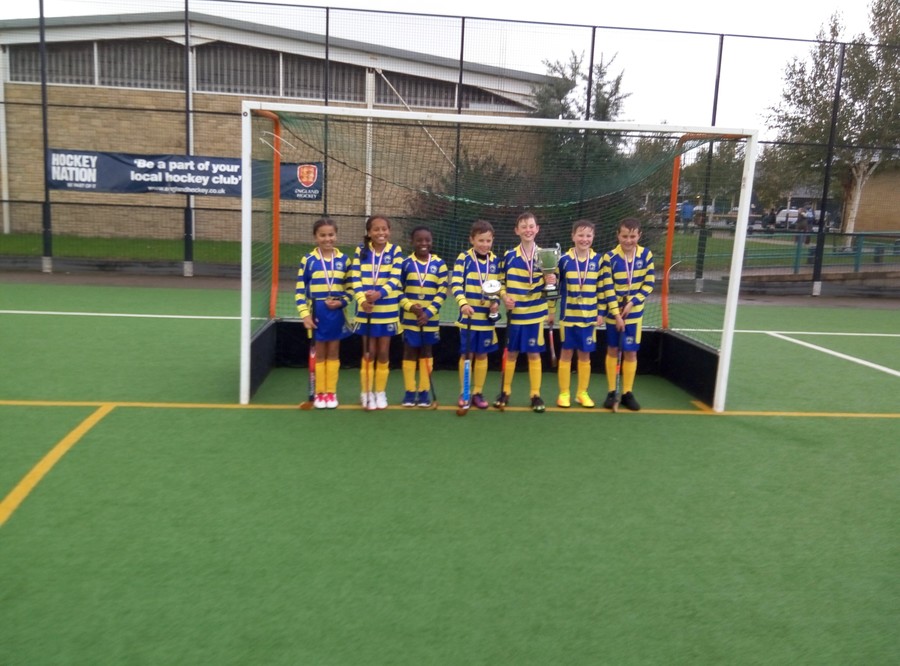 Hockey
The hockey team have a had a very successful season.
They have won all five of their league fixtures and amazingly didn't concede a goal - the final league table is here:
http://www.leaguewebsite.co.uk/prestonschoolsports/Divisions?div=16825&age=all
The school fielded an A and B team at the KABO hockey tournament at UCLAN on 18th October. Please read on for the reports from the children:
B team:
On Tuesday October 18th our B team played their first ever competitive games of hockey in the Prston Schools Tournament.
We were in a small group of 4 teams and played OLSE. We were, to put it nicely, a little bit of a shambles to start with. However, despite being under constant attack, we only conceded one goal and the final score was 1-0.
We then faced St. Mary's. We were so much more organised with the boys in defence hitting the ball t the girls up front. Ella (goal hanging) slotted the ball in for our first victory 1-0.
Our final group game was against Eldon and we were quite quickly 2-0 up! We eventually won the game 2-1.
We finished second in our group, which meant that we played Queen's Drive B team in the quarter finals. It was a really tough game and unfortunately we got beaten 1-0 which meant that sadly this was the end of our tournament.
The whole team worked really hard and improved with each game which was brilliant to see. Well done to the whole team!
A team:
On the 18th of october, the A team had a hockey tournament.
In our first game we played Queen's Drive who were first division champions and we won 1-0.
In our second game we played St Ignatius and we won 4-0.
Then we played Barnacre and beat them 2-0.
In our last group game we played St Stephen's and beat them 1-0.
We got through to the quarter finals and played Queen's Drive B team. We all played well and battled hard but the game went to penalties. We won 3-1 on penalties and Jake kept us in the tournament with his saves.
In the semi finals, we played Barton St Lawrence, again we all worked really hard and Fiyin and Amber scored so the game ended up 2-0 to us.
Sherwood went to penalties against Queens Drive in the other semi final and beat them 3-1 which set up a final against them. The weather was terrible but we managed a 1-0 win. Aidan and Tayla defenedd well and Amber managed to score the important goal and we won the tournament.
In the presentation we got 2 trophies. One for winning the tournament and one for winning our division. We didn't concede any goals in the tournament or in the league.
Match report hockey 4th October at UCLAN Sports Arena by Tayla
In our hockey matches so far, we have beaten every team that we have played. ON October 4th we first played Fulwood and Cadley and beat them 8-0. The second team that we played was St Stephen's and we beat them 4-0.We battled hard on both games and our passes were direct. We hope we do as well next week.
Well done Longsands
Our hockey team started their division 2 fixtures on 27th September at UCLAN Sports Arena.
They played their opening 2 matches against Harris and Ribbleton, winning 2-0 and 8-0 respectively. Well done to everyone who played.
Have a look at the pictures - 3 boys and 3 girls have to be on the pitch at all times, looking very smart in our new kit (thanks to the PTFA!)
Click on the link to follow our progress in Division 2
http://www.leaguewebsite.co.uk/prestonschoolsports/Divisions?div=16825&age=all